GSI Courses Offered
The Geosynthetic Research Institute holds online courses pertinent to the geosynthetics industry. The next class is:
GSI-W10 Wet (Bioreasctor) Landills for Rapid Degradation of MSW Organics
March 22, 2017 - 11:30 AM - 1:00 PM (Eastern Standard Time USA)
In contrast to keeping a municipal solid waste landfill as dry as possible, the wet (or bioreactor) concept is to purposely introduce liquids so as to rapidly degrade the organics in the waste mass. Such practice has technical and financial advantages and is allowed by most state regulatory agencies. The various strategies (leachate recirculation, anaerobic bioreactor and aerobic bioreactor) will be explained, as well as methods for adding liquids to the waste. Most importantly, design implications and / or concerns will be explained. They include liner integrity, leachate collection and removal systems, filter and protection layers, daily cover, final cover and waste stability concerns. All are critical insofar as a successful outcome is concerned. The conclusion will include specific design recommendations.
For more information on this course and others GSI offers, click here.
IAGI Give Back Program
More than two years ago, the IAGI Board began discussing ways to give back to society. The IAGI Board members considered numerous ideas for a give back program.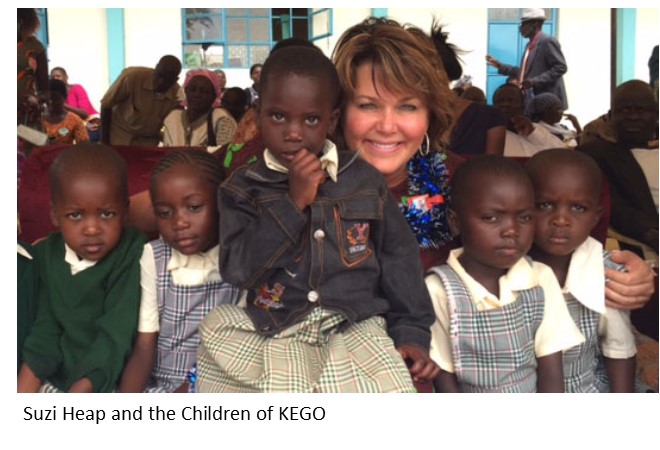 John Heap, Colorado Lining International, met Philemon Konditi on a job site in Colorado and Philemon mentioned that he has been funding an orphanage in Kenya out of his wages as a Quality Assurance Technician. The orphanage is located in Onjinyo, Kenya near Homa Bay and the shores of Lake Victoria. This area has the highest concentration of AIS and HIV in the world. The current generation of children is losing their parents and family members. These orphans are now living with either their grandparent or guardians. The KEGO orphanage has been supporting approximately 170 children by providing education and food. Many of these kids rely on KEGO to provide food. They may not have enough to eat if they don't attend school.
John Heap and his wife Suzi have made two trips to the orphanage in Kenya. These kids are bright and have a desire to learn and better themselves. They need a "hand up" to thrive.

During GeoAmericas 2016 John Heap presented this program to the IAGI members at the General Assembly. This program was enthusiastically supported by the IAGI members present. IAGI's not for profit status does not allow for IAGI to collect funds for a charity. John Heap has led the initiative to set up a non-profit that can raise the funds and provide support to the kids in the KEGO Orphanage. The Rippling Waters Charity will be able to collect money that will be used to feed these children.

Once the children's basic needs are met, Rippling Waters plans to work with the orphanage to create water systems that can provide clean water, healthy food, power and an opportunity to create a sub-economy in their region. The goal is that we can develop rainwater catchment, storage systems, simple water cleaning systems and aquaponic gardens to provide clean water and food sources for their village and the community. The longer term goal is to allow the children to develop the technical talent and the entrepreneurial vision to take this technology and train other villages in their region how to build and maintain these sustainable systems. This initiative will allow the children to have technical skills once they leave school.
To learn more, click here.

To make a donation, go to Rippling Waters Charity website at www.ripplingwaterscharity.org.