IAGI's Give Back Program
We have accomplished many things since this program launched in 2015 and now we are on to our largest project to date. The next project is to build an aquaponics training center and begin production of tilapia and fresh vegetables to train the children on the system. The educational value items are noted below:
Construction – How to build a functioning aquaponics system from the ground up.
Measuring basics – elevations and proper foundations – water flows.
Water biology and fish rearing the inter-related systems of nature.
Photosynthesis and vegetable production – Watch the magic and learn.
Economics of the system as it relates to their existing economy. How do we find market pricing for boutique lettuce and tomatoes grown in our system (sell higher quality produce to Hotels and markets), understand the local market pricing and variances in the local Lake Victoria economy?
We have partnered with Colorado Aquaponics and will be working hand in hand to develop the Bill of Materials and will work on establishing the best plan forward for getting the hoop building built (to protect and house the aquaponics systems) and installing a fully operational aquaponics training and production facility with controlled entry and health and safety measures included.
For more information or to make a donation, www.ripplingwaterscharity.org.
GSI Announces Webinars
"Quality Assurance/Quality Control of Geosynthetics in Waste Containment Facilities"

January 30, 31 and February 1, 2018 / 11:00 a.m. - 12:30 p.m. and 2:00 - 3:30 p.m. (Eastern Daylight Time) USA

This on-line course is focused on the quality assurance and quality control of geosynthetics as placed in permanent and/or critical applications. Specifications and testing are emphasized and demonstrated accordingly. It focuses on both the manufactured geosynthetics and on the installation processes. Applications are mainly in the waste containment area, i.e., landfills and surface impoundments, but applicability to ponds/reservoirs, canals, shale gas plays, coal combustion residuals, heap leach pads, etc., are also addressed. Included are the following presentations:
waste issues, regulations and geosynthetics
geomembrane manufacturing, specifications and testing
geomembrane placement and field testing
geosynthetic clay liners
geosynthetic drainage systems
ancillary geosynthetics, clay liners and documentation
This on-line course automatically warrants 8 PDH's
GSI Members - $750.00 (USD)
Non GSI Members - $1000.00 (USD)
For more information and registration - http://www.geosynthetic-institute.org/webinar.htm
Raven Industries Signs Agreement to Acquire Colorado Lining International
Raven Industries, Inc. announced that is has signed an asset purchase agreement to acquire substantially all the assets of Colorado Lining International, Inc. headquartered in Parker, CO. The cash transaction is expected to close in September with Raven paying approximately $14 million and the potential for up to $2 million in additional earn-out payments over the next three years. The final acquisition will align under the company's Engineered Films division, an innovative manufacturer of polymer film and sheeting. By adding new design-build and installation service components to the company's geomembrane offering, this acquisition will advance Raven Engineered Films' business model into a vertically-integrated, full-service solutions provider in this sector. Colorado Lining International, Inc. was established in 1978 and is a well-respected company that provides custom fabrication, design-build expertise, and certified installation services. Following the acquisition, Raven Engineered Films will operate facilities in four states - South Dakota, Colorado, California and Texas - to further optimize and expand customer services and logistics.
To read the entire news release, click here.
Award Winners Showcase the best in Geosynthetics Installation
IAGI presented three awards at Geotechnical Frontiers 2017. Members of the International Association of Geosynthetic Installers (IAGI) recently announced its winners of the 2017 IAGI Installation Awards.
The awards presented during Geosynthetics 2017 in Orlando, FL recognize exceptional work by geosynthetic installers. There were two award categories, Innovative and Extreme. The entry that got the greatest number of votes from the judges is the Award of Excellence winner.
"The IAGI Installation Awards recognize those IAGI members who make significant contributions to the field of geosynthetics installation. So often the installer gets forgotten in the discussion of a project," commented Laurie Honnigford, managing director of IAGI. "In reality a project is a set of plans on a piece of paper until the installer gets involved. The installer can make or break a project and we need to recognize those who improve and advance our industry."
The 2017 IAGI Award Winners:
Award of Excellence – Simbeck and Associates (Mancos, CO, USA) for the Blue River Restoration project. The Blue River, which feeds Dillon Reservoir and eventually connects with the Colorado River, is one of several tributaries heavily affected by mining operations in Summit County, Colorado. From the late 1800s to the 1940s, dredging was the preeminent method of extracting gold in the area. In this process of extraction, the valley floor was turned upside down as 70-90 feet of cobble was brought to the surface and exposed. The practice was repeated up and down the valley - decimating the river and meadows that were once home to an abundance of wild flowers and animals. The project involved reconstruction and restoration of approximately 3000 linear feet the Blue River, just north of Breckenridge, Colorado. Work included rechanneling the river, earthwork to reshape the original corridor, installation of river liner, backfilling and restoring the river corridor. The lining was comprised of installing 27 prefabricated 30 mil PVC blankets totaling 255,798 square feet.
Extreme Project Award – G.E. Environmental Solutions Inc., Saskatoon, Saskatchewan, Canada for the Cell #2 Expansion. The Cell #2 Expansion was awarded the extreme award for the number of obstacles the installer had to overcome while completing this project under a compressed time frame. The start of the project was delayed due to rain and this pushed this project into the cold weather installation, specifically mid-November in Northern Alberta, Canada. In addition to the sleet, snow and rain, the installer was spent extensive time educating the general contractor about the need for maintaining quality installation. Further, no light plants were available so the time for installation was limited to daylight hours. In mid-November in Northern Alberta there is approximately eight hours of sunlight to work with. Another challenge was the irregular shape of Cell #2. Within 24 working days, G.E. Environmental had to install 522,000 ft2 geocomposite, 495,000 ft2 geomembrane, 366,000 ft2 geosynthetic clay liner, 64,500 ft2 geonet and 64,500 ft2 geotextile.
Innovative project Award – Hallaton Environmental Linings, Sparks, Maryland, USA for Pearce Creek Dredge Disposal Facility. The Pearce Creek placement site, owned and operated by the Corps of Engineers, received dredged material from the C&D Canal's approach channels at various times between 1937 and 1993. The Corps plans to reactivate the site for the placement of dredged material from the federal navigation channel. However, in 2013 the US Geological Survey found that a missing or thin layer of clay beneath the site contributed to the entry of degraded water into the underlying aquifers. Migration of this groundwater, which moves very slowly, had gradually impacted water quality in some residential wells. When the Pearce Creek site was reactivated, substantial safeguards will be in place to protect and monitor surface water and groundwater quality. The geosynthetic liner will prevent any further impacts from dredged material by preventing it from entering the groundwater system.
IAGI Elects Board Members
Members of the International Association of Geosynthetic Installers (IAGI) recently voted to fill seats on IAGI's Board of Directors. Candidates were nominated by the industry and those elected will serve on the IAGI Board of Directors during 2017 -2018. The IAGI members elected include: Chris Eichelberger, AGRU America, USA; Piet Meyer, Aquatan Pty., Ltd., South Africa; John Heap, Colorado Lining International, USA; Max Brady, DDT Liners, Australia; "Demo" DaveMcLaury, Demtech Services, USA; Nicky Araujo, Servicios de Ingenieria Geosintetica, S.A., Costa Rica. Andrew Sanderson, Western Tank & Liner, Canada. Each director will serve for two years.
New officers for the IAGI Board of Directors were elected at a recent Board of Directors meeting. Max Brady was elected to serve as IAGI's President. Nicky Araujo was elected First Vice President and Andrew Sanderson was elected Second Vice President. Finally, Chris Eichelberger was elected Treasurer. Todd Harman will serve the Board as Immediate Past President.
"Under Todd Harman's dedicated leadership, IAGI has focused on serving the international installation community and the current Board representatives reflects this effort," commented Laurie Honnigford, IAGI's Managing Director. "Todd has worked hard to accomplish this."
"IAGI members set the world standard for installation professionalism," stated Max Brady, IAGI's President. "My goal is to support and enhance those companies dedicated to advancing the professionalism."
For contact information, see the IAGI Board page of the website.
IAGI Give Back Program
More than two years ago, the IAGI Board began discussing ways to give back to society. The IAGI Board members considered numerous ideas for a give back program.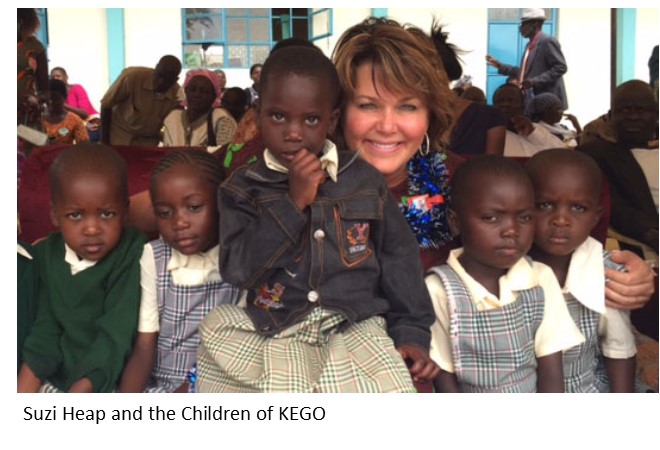 John Heap, Colorado Lining International, met Philemon Konditi on a job site in Colorado and Philemon mentioned that he has been funding an orphanage in Kenya out of his wages as a Quality Assurance Technician. The orphanage is located in Onjinyo, Kenya near Homa Bay and the shores of Lake Victoria. This area has the highest concentration of AIS and HIV in the world. The current generation of children is losing their parents and family members. These orphans are now living with either their grandparent or guardians. The KEGO orphanage has been supporting approximately 170 children by providing education and food. Many of these kids rely on KEGO to provide food. They may not have enough to eat if they don't attend school.
John Heap and his wife Suzi have made two trips to the orphanage in Kenya. These kids are bright and have a desire to learn and better themselves. They need a "hand up" to thrive.

During GeoAmericas 2016 John Heap presented this program to the IAGI members at the General Assembly. This program was enthusiastically supported by the IAGI members present. IAGI's not for profit status does not allow for IAGI to collect funds for a charity. John Heap has led the initiative to set up a non-profit that can raise the funds and provide support to the kids in the KEGO Orphanage. The Rippling Waters Charity will be able to collect money that will be used to feed these children.

Once the children's basic needs are met, Rippling Waters plans to work with the orphanage to create water systems that can provide clean water, healthy food, power and an opportunity to create a sub-economy in their region. The goal is that we can develop rainwater catchment, storage systems, simple water cleaning systems and aquaponic gardens to provide clean water and food sources for their village and the community. The longer term goal is to allow the children to develop the technical talent and the entrepreneurial vision to take this technology and train other villages in their region how to build and maintain these sustainable systems. This initiative will allow the children to have technical skills once they leave school.
To learn more, click here.

To make a donation, go to Rippling Waters Charity website at www.ripplingwaterscharity.org.